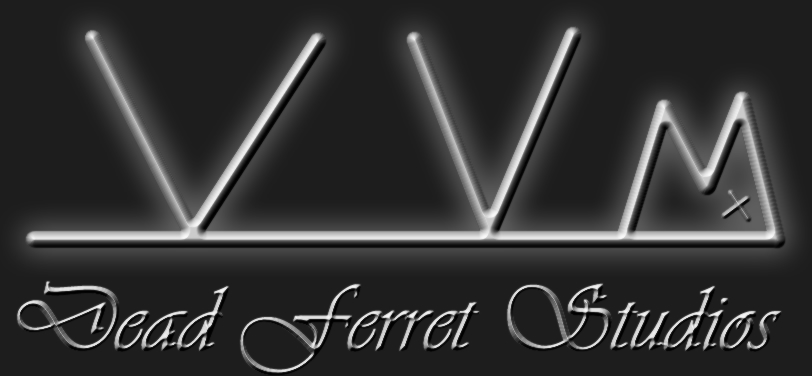 March 23, 2005
Alright, this is the last ever animation that will be hosted at this site. Very sad. Took me weeks to finish. It's also the only animation here to have sound. Which is probably slightly screwed up on your computer. But the reason this is the last one ever on here, is that I plan on making a new VVMx site entirely on Flash. I'll just probably never get around to it. But this animation is a little intro for it with the characters it will be starring.

August 13, 2004
Wasaiiiiiiiiiii!!!!!!!!! Hey, this is just Conair Mor here at V_V_M. I'm just here to say, stay calm my homies, Dead Ferret Studios is not dead yet. In fact, we may be going through some quite drastic and very alive changes around here soon. For a start, there's a big possibility that we will be hosting an online comic. I forget what it's called, but the cartoonist has asked if he could post it here at V_V_M. where it will get the attention it deserves (I laughed when I read 'em). And we may be revamping the whole look of the site here. And as always, if you've got any good ideas for an animation, email us at iamdagashi@yahoo.com.

June 3, 2004
Today marks the release of two animations, Solving Problems with a Shotgun 2, and Goodbye, a little fairwell messege to all my friends in Virginia. These are gonna be the last animations we release here for a while, unless I manage to figure out how to work Flash 5. This might very well be the last Dead Ferret Animation. Goodbye.

May 17, 2004
It's been about a month in the making, but we've finally fineshed our latest animation, Sparta vs. Athens. I don't know how many more animations we'll be able to make before the end of the school year when I'll no longer have acsess to Flash 2004. Hopefuly one. But don't worry too much because we still have acess to Flash 5 and while the quality won't be as good, and it will take longer to work with, we'll still be able to create those high quality animations you've come to expect from Dead Ferret Studios.

April 27, 2004
We've fineshed redoing the first episode of the Grey Chronicles, however, we've been having a few technical difficulties with the quality which we'll try to fix as soon as possible. After that, we're planning to work on a short animation involving the Greek city states of Athens and Sparta. If you have any ideas of something you want on the site, email either me at iamdagashi@yahoo.com or Conair Mor at conairmor@yahoo.com.

April 15, 2004
Today marks the completion of Conar Mor's latest animation, an intro for the Grey Chronicles. I've uploaded it on the navigation bar. Also, we'll be redoing the some or all of the current Grey Chronicles animations (probably just Episode 1).

March 26, 2004
Wazzzzup! I have finaly gotten the new website up and running with our four current animations. We're using swf files instead of gif so the animations run smoother, but you'll need the flash player. Now, we're looking at starting Grey Chrnicles: Episode 3, redoing Episode 1, and making an intro. If you have any almost good ideas for animations, email me at conairmor@yahoo.com.